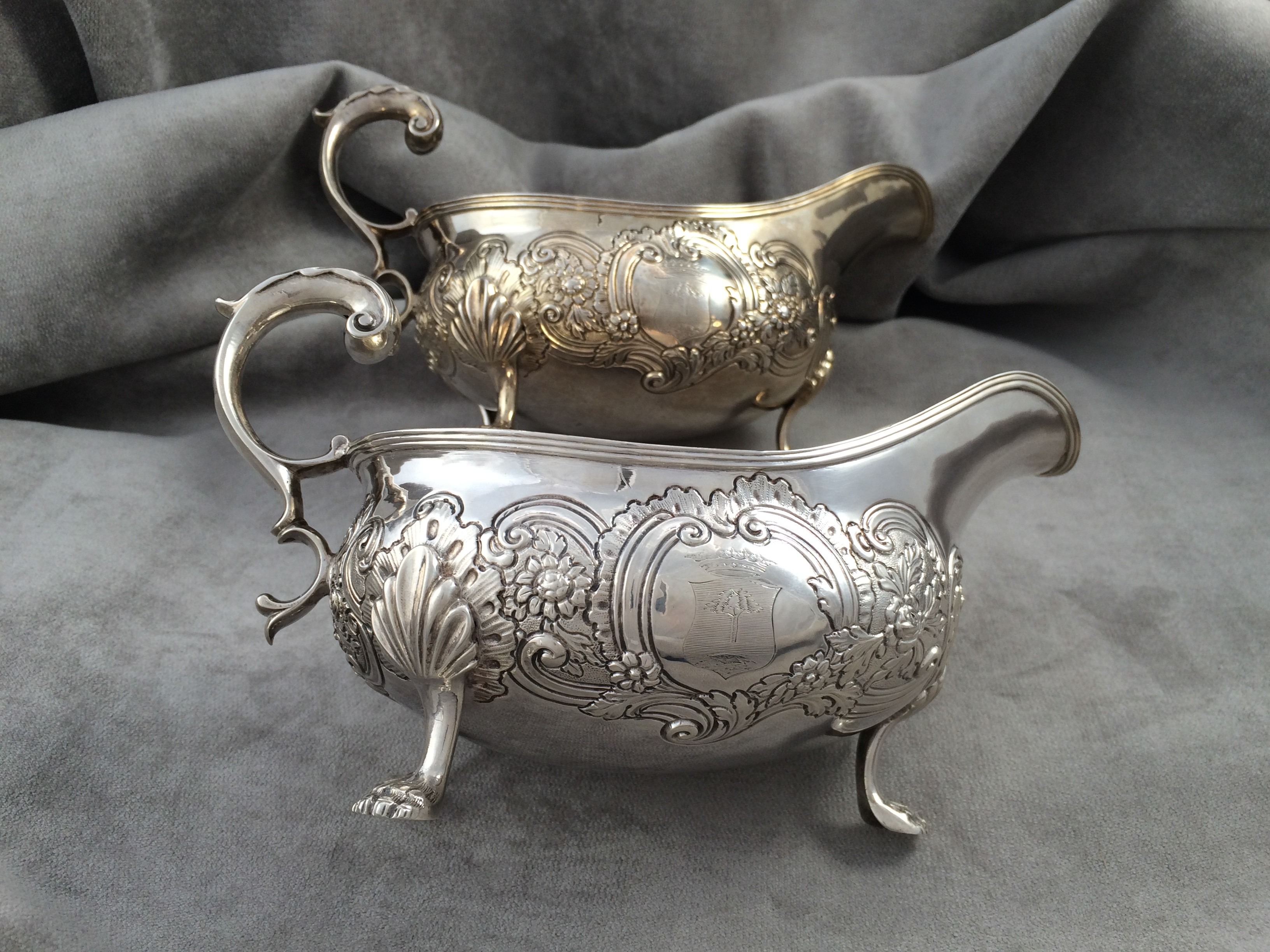 Antique Silver Sauceboats: A Timeless Dinner Service Accessory
---
The first silver sauceboat was created as a complimentary piece to dinner service presentation in the early 1700s. A sauceboat or gravy boat is an extended pitcher (similar to that of a boat) used to serve gravy. Some antique silver sauceboat designs included a pouring lip at each end, while others included a handle and one pouring lip. The latter is similar to the modern gravy boat. While sauce boats were manufactured from various materials, like glass, porcelain, pottery, pewter and bone china, the highest demand in the most affluent households was for silver. Most established households already had a set of family silver, so it became up to the silver manufacturers to create sauce boats that complimented the existing sets. This resulted in some custom design work with elaborate engraving.
American Silver Sauce Boat, Circa 1760-70
A select piece of the Lamb Silver Collection, this classic American silver sauceboat designed by acclaimed silversmith, Joseph Richardson, Sr. This American silver antique dates back to Philadelphia, PA between 1760-70. Featuring an intricately scrolled double C handle, broad pouring lip and scalloped upper rim, this design would have been the height of fashion in any eighteenth century dining room. Supported on three cast feet, adhered with clamshell detail, this sauce boat bears the mark of the acclaimed silversmith.
Inscription: Base is engraved with the initials "W/T.R.".
Marking: "IR" engraved in a rectangle at the base, showing authenticity.
---
Pair of American Silver Sauce Boats, Circa 1809-14
Sauce Boats were often made in pairs, or even sets of four, to be placed at all ends of the formal dining table for easy access by guests. This set of sauce boats, by Silversmiths John & Peter Targee of New York, boast upward C free-standing handles reflecting the design of curled leaves connected to the oval-shaped pitcher. The pair were commissioned for design by the Schermerhorn family, as the family coat of arms, depicting a tree over an animal, is engraved among the floral scrolled etchings.
Inscription: Family Coat of Arms, Schermerhorn
Marking: "I & P T" hallmark along base, as well as the teams "pseudo hallmarks"; a ship with a sail or the letter "P"